Meet 2nd year Diagnostic Radiography student, Rebecca!
6th September 2021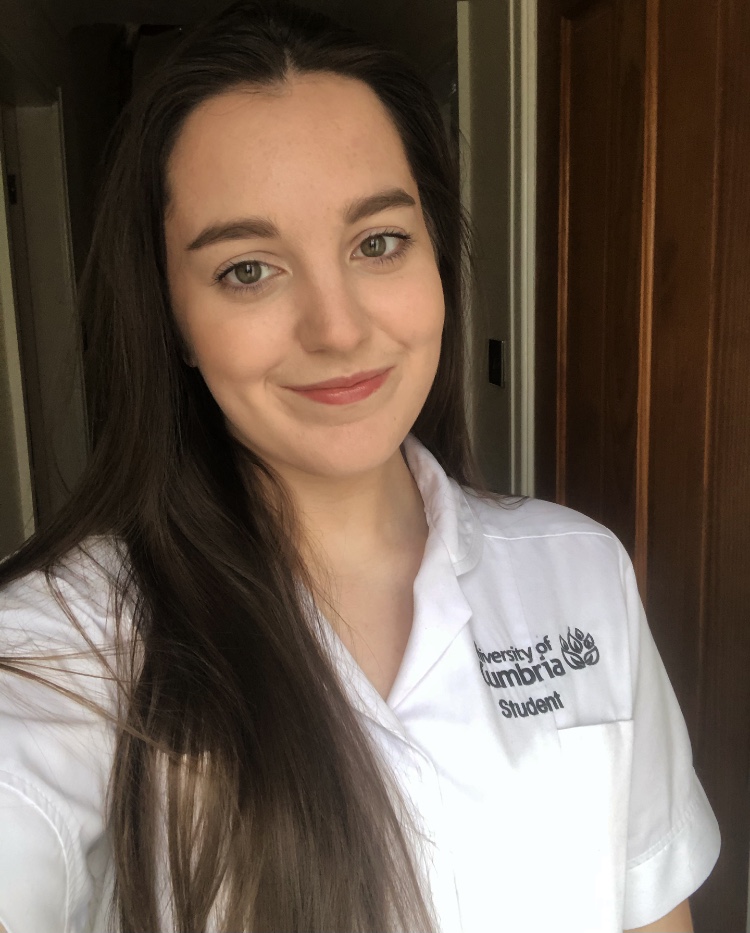 Tell us a little bit about yourself.
Hi, my name is Rebecca! I am 20 years old. I am a 2nd year Diagnostic Radiography student at the University of Cumbria. In my spare time I love walking my lovely German Shepherd, going to the beach, and spending time with my friends. I am also on the Society of Radiographers' Student Representative Forum and I am currently working with On The Frontline AHP's2 to help promote Allied Health Professions.
Why did you choose diagnostic radiography?
While doing my A-levels I volunteered at a hospice and with a community First Aid organisation. These experiences confirmed I wanted to pursue a career in healthcare. I originally applied to study Medicine at university but didn't quite make the grades. Fortunately, everything fell into place and I found a profession I adore – Diagnostic Radiography! I am so glad things worked out the way they did. Radiography gives patient interaction, a varied work, many specialty options and plays a key role in aiding a patient's diagnosis. At college, Allied Health Professions were hardly promoted compared to other health careers which is why I am passionate about raising awareness of AHP's.
Is it everything you expected?
Radiography is better than I expected! I love my course – from the physics of diagnostic imaging to anatomy and physiology. Placement has been eye-opening; I hadn't fully realised how vital the role of Diagnostic Radiography was until I had experienced it first-hand. Radiographers have a role to play in almost every patients pathway. So far, I have spent time in general X-ray, A&E, theatres, Interventional Radiology, CT, MRI, Nuclear Medicine and Fluoroscopy – there is definietly variety! Placement can be challenging at times, but I always walk away from the hospital feeling fulfilled.
Top piece of advice for anyone wanting to go down this path?
If you want to work with patients and like the sound of Radiography, I say go for it! Radiography is very rewarding career and is a huge part of the NHS that rarely gets spoken about. I would suggest contacting your local hospital trust to see if you can attend a day of work experience in an X-ray department, to give you a taste of Radiography. If this isn't possible, look at university websites/open days. If you want to speak to a student or radiographer, I highly recommend talking to the radiography community on Twitter (#RadTwitter) – everyone is so welcoming and happy to help!
Anything else you would like to add?
Contrary to popular belief, Diagnostic Radiographers don't just X-ray fractures in A&E. Radiographers have been on the frontline during COVID-19, proving every potential COVID patient with a chest X-ray, to help confirm a diagnosis. CT scans, PET scans and Nuclear Medicine scans are gold standard imaging tests for cancer diagnosis and staging, as well as other illnesses. Radiographers provide imaging in theatre cases and in Interventional Radiology, making life changing procedures far less invasive for patients.