Student represents Orthoptics as a profession
24th September 2020
Charlotte Smith is an Orthoptist at The University of Sheffield and here is her story…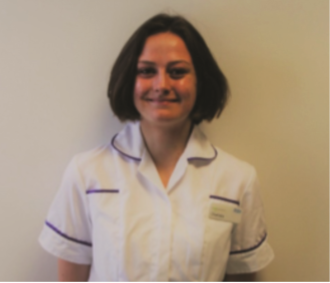 What does it mean to be an orthoptist?
An orthoptist diagnoses and treats problems affecting the muscles around the eye and the parts of the brain that control these muscles. Based in hospitals, orthoptists mainly deal with paediatric patients to ensure vision develops normally or adult patients complaining of double vision. An orthoptist works as part of a multidisciplinary team alongside optometrists and ophthalmologists as well as working autonomously, making their own diagnoses and treatment plans.
As a student orthoptist, what leadership roles did you undertake?
During my studies at university, one of the leadership roles I took on was President of the Orthoptic Student Society. This opportunity helped me to work on my time management skills and teamwork to balance my responsibilities.
Another opportunity that I accepted was the chance to experience how orthoptics was practised and taught abroad, offered through my university. As part of the Global Engagement Programme, I took a large step outside my comfort zone and travelled to Sweden alone to directly observe orthoptic practice internationally in St Erik Eye Hospital, Stockholm, and Västerås Central Hospital.
I was part of the Council of Deans of Health's Student Leadership Programme. I learnt a great deal from this programme, such as that leadership comes in many different forms and how to actively listen to experienced individuals for my own personal development.
What is the value of leadership as a student and professional orthoptist?
An orthoptist works autonomously, managing their own patients and deciding on the best course of treatments. It is vital an orthoptist can explain their management plans effectively with good communication, a skill any good leader should possess. As part of a multidisciplinary team, orthoptists are also often the first healthcare professional a patient will see. Leadership provides orthoptists with the confidence to put patients at ease when necessary and to make important decisions regarding whether a patient needs to be referred to an ophthalmology consultant or optometrist.
What is your advice to other orthoptic students who aspire to a leadership role?
I would strongly recommend any aspiring leaders in orthoptics to take as many opportunities as possible to put yourself out of their comfort zone, to meet new people and build your network in the process. I would also recommend making the most of clinical placements by learning from others with experience. Ask lots of questions and be sure to take the information and any feedback on board.
These are the stories of 11 students from 11 health professions. The students featured in this publication have all taken part in the Student Leadership Programme. The Student Leadership Programme, now popularly known as #150Leaders, has been delivered by the Council of Deans of Health.